Wayne Wonder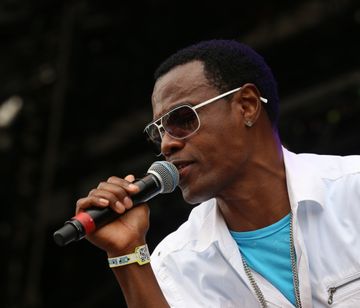 Attribution
Image Credit: You may re-use this image under the terms of the license using the following reference:
Image: Wikipedia / Tobias Klenze / CC-BY-SA 4.0
. The license
must
be a link! (
Own work
),
CC BY 3.0
Biography
Wayne Wonder (born Von Wayne Charles, 26 July 1972) is a Jamaican reggae fusion (specifically reggae/R&B) artist. While his early recordings were dancehall and reggae, he later moved towards hip hop and rap. Wonder was born in Buff Bay, Portland, Jamaica. He sang in Sunday school as a child, and began songwriting at the age of 13, getting a major career break when he was given a regular weekly slot at Metro Media in Allman Town. He auditioned at Sonic Sounds studio, but while Sly Dunbar was impressed, his touring commitments with Black Uhuru prevented him from signing Wonder. He had more success, however, with King Tubby, who produced his first single, "Long and Lasting Love", in 1985, with two more following. Wonder's career suffered a setback when Tubby was killed in 1988, and he recorded for several other record producers at Sonic Sound, enjoying a further hit with the Lloyd Dennis-produced "It's Over Now", leading to the release of his first album, No More Chance, although his success in this era was limited. His fortunes improved when he began working with Dave Kelly, a friend from primary school, who had become resident sound engineer at Penthouse Studios. The partnership enjoyed a string of hits, starting with "Saddest Day", and they also worked on Wonder's second album, Part 2. His 1990 live performance of Alphaville's "Forever Young" was recorded and later released to Alphaville fans in a limited, cassette-only album entitled History. He toured the UK in 1992 along with other Penthouse stars Marcia Griffiths, Tony Rebel, and Buju Banton. He also recorded "Bonafide Love (Movie Star)" with Buju Banton, and wrote several early hits for him, including the controversial "Boom Bye Bye". He toured again with Banton in 1994 as part of the Penthouse Showcase. Wonder formed the band Alias along with Kelly, Baby Cham, Frisco Kid, and Frankie Sly, and later Entourage.
Genres
Trivia