The Mars Volta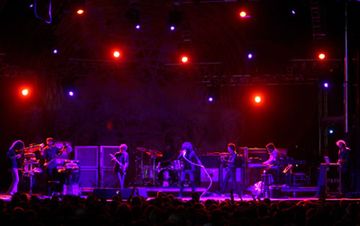 Attribution
Image Credit: No machine-readable author provided.
Wailer
assumed (based on copyright claims). (No machine-readable source provided. Own work assumed (based on copyright claims).),
CC-BY-SA-3.0
Biography
The Mars Volta is an American progressive rock band from El Paso, Texas, formed in 2001. The band consists of Omar Rodríguez-López (guitar, producer, direction), Cedric Bixler-Zavala (vocals, lyrics), Juan Alderete (bass), Marcel Rodriguez-Lopez (keyboards, percussion) and Deantoni Parks (drums). Formed following the break-up of Rodriguez-Lopez and Bixler-Zavala's previous band, At the Drive-In, The Mars Volta incorporates various influences including progressive rock, krautrock, jazz fusion, Latin American music, and the rhythmic complexity of math rock into their sound. They are known for their energetic live shows, as well as their concept-based studio albums. In 2009, the band won a Grammy Award in the "Best Hard Rock Performance" category for the song "Wax Simulacra." In 2008, they were named "Best Prog-Rock Band" by Rolling Stone magazine.
Details
| Item Name | Item Details |
| --- | --- |
| Year Formed | 2001 |
| Number of Albums | 14 |
| Record Label | Warner Bros. Records |
| Website | |
| Wikipedia | The Mars Volta on Wikipedia |
| Social Networks | |
Genres
Trivia